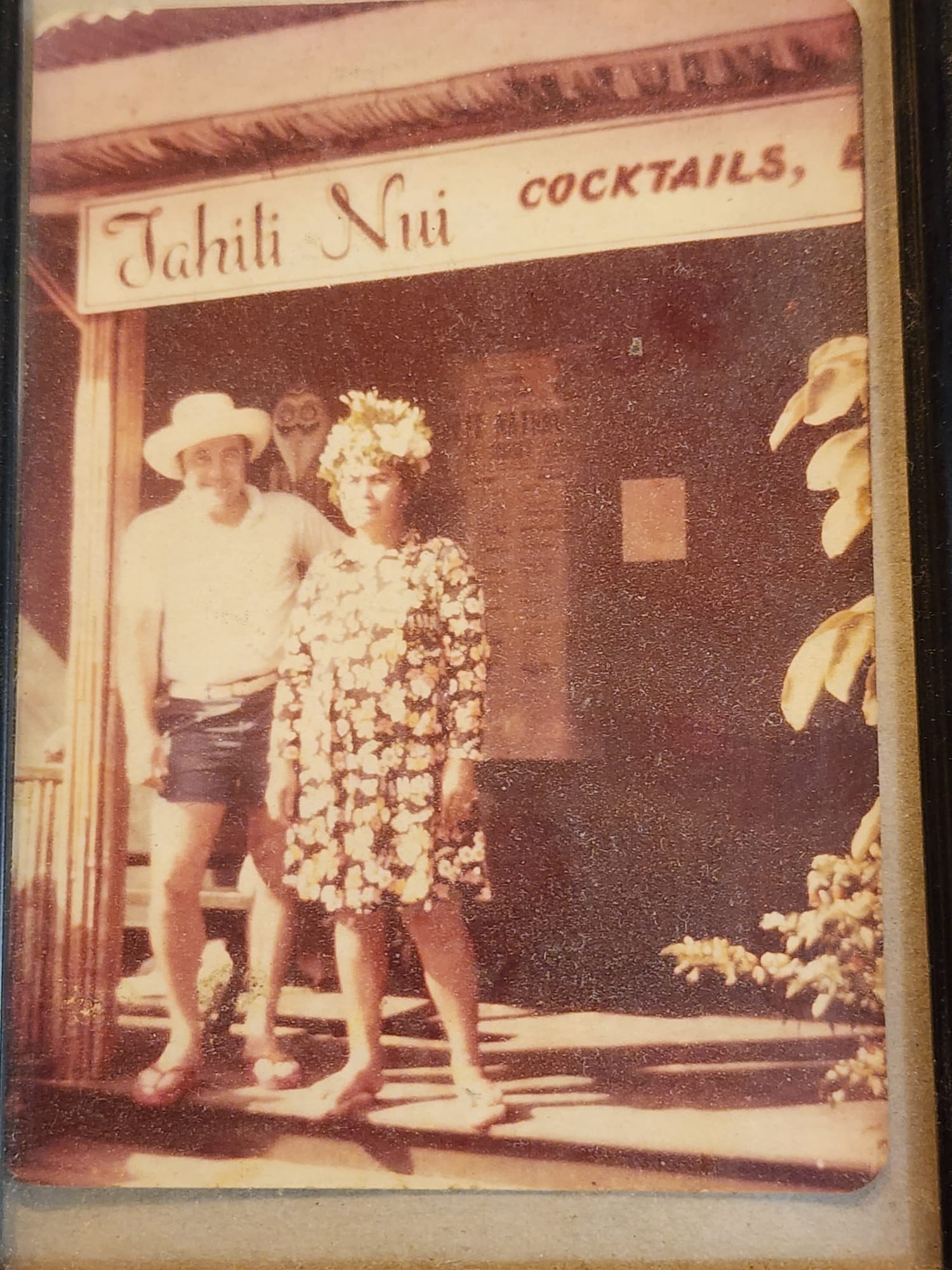 HISTORY
Bruce T Marston, of California, (USA) met Louise in Tahiti while in the United States Air Force as a Lt. Colonel over 50 years ago. Louise was a native of Tubuai ( Austral Islands, French Polynesia) which is just south of Tahiti. Louise was a descendant of Tahiti Royalty in the lineage of King Tomatoa. They met in Tahiti, fell in love and married. 

They moved to the beautiful island of Kauai and opened a small diner. They became successful and added a small curio shop adjacent to their restaurant. Over the years The Tahiti Nui has had many changes but the on thing that remains constant is the atmosphere of friendliness, service and good food and drink that people from over the world have come to love. Many years later Christian, the son of Bruce and Louise, continues the tradition that both locals and visitors cherish. Don't miss "da Nui" on your next visit to Kauai and become part of the legend famous the world over "Kicking Back at da Nui!"  

A Hui Hou
Until we meet again
Celebrating 60 Years at The Nui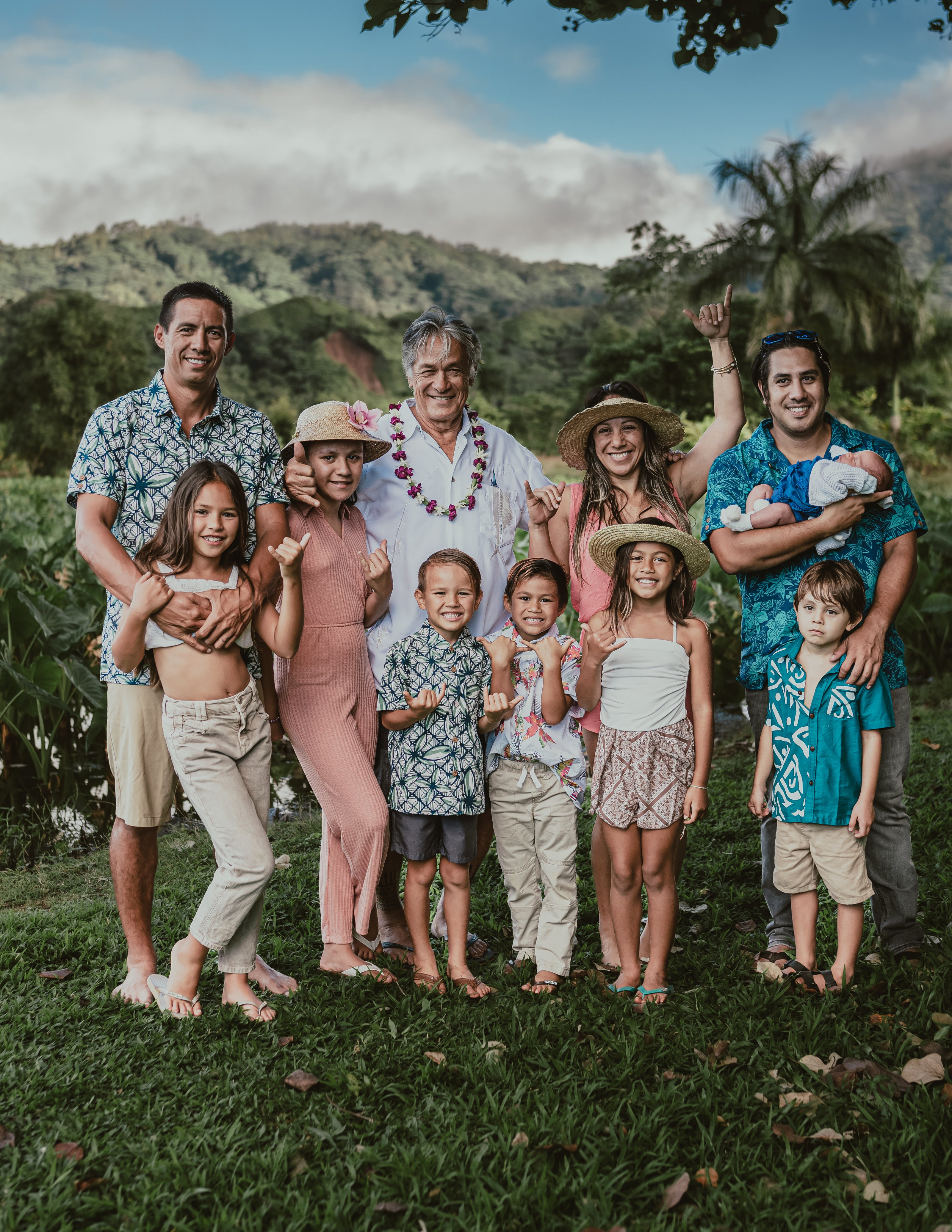 Tell us a little bit about The Nui, its history and culture, and how you strive to maintain tradition. 

Uhmm, let's see. I think how I strive to maintain tradition is I am constantly thinking about what my grandmother would've wanted, what was her original vision, what was important to her, and a lot of the core elements that make us who we are and making sure we never stray too far from that. That's always my center in terms of trying to maintain who we are.History and culture, we are the gathering place on this half of the island. I think music is very much a strong part of Polynesian culture in general, from Hawaiian to Tahitian, you know, all of our Polynesian cultures, music is a very strong piece of all of our family get-togethers and just of our family in general, so Tahiti Nui is an extension of that in a way and that's why it still feels very familial. For local people when they come in, we have music and we have food, that is the core of what makes up a visit to a family member's house, you know? Or to a get-together with family. All of our get-togethers will include music and food, probably similar to many other cultures, but definitely for ours, and historically it's been that way since the very beginning.
How many years has The Nui been in business?

60 years this year! 1963 is when we opened. 
Growing up, did you ever expect to take on the family restaurant? 

Haha! No! Does any child ever plan to take on the family business? Almost not, I think we all run as long and as hard as we can until we can't but no! I definitely was planning to be living in Italy, I was never coming home [laughter] I got my French citizenship and I was going back to continue living in Italy for the rest of my life is what my plan was but my dad needed help and I came back for what was supposed to be one year promised, and that was, I don't know, 14-15 years ago now?But no, the business has not always been a positive thing in my family, you know, so I think there's- my brothers wanted nothing to do with the restaurant also, but I'm also happy and honored and proud to be here and continuing it and it's a very important part of my life so I'm super committed to it, to my grandma's vision, and to the life that Tahiti Nui has already built and lived. You know? Tahiti Nui has its own life. It's its own person and it definitely has its own life, so I think I feel obligated but also honored to help it continue.
What are your favorite parts about the job? 

I would say it's changed but one of my favorite parts about the job currently, because we have so many young people, and because we have just such a big crew, we've doubled in size since pre-covid, we maybe had 35 employees pre-covid and we have 63 now, so I think my favorite part about the job is being able to mentor young people really, and help them think bigger than getting your first waitress job or you know, whatever food service job for the first time and we do a lot of kind of "outside bonding experiences" and we have a coach visiting right now from Australia. I think my favorite part is just in trying to aspire a lot of these kids to think bigger than just the restaurant and just the island. That's specifically more for my in-house people, but community is important because we are the community. 
Why is community and tradition important to you? 

Community is important because we are the community and we've been a part of this community for 60 years, living multi-generationally, in the same place, in the town that we are back when there weren't many people there. It's a huge duty in my opinion, it's a huge responsibility, we, and all business owners share-- and should share (not everyone does) but should share by being a part of such a small space, a small community, it's all of ours, like everything else, you feel it in Hanalei because it's so small but Hanalei Town is ours and we make it what we make it. It's no one else's responsibility, you know, it's ours so.Tradition I'm guessing maybe you mean like cultural tradition? I think because we all are native Hawaiin, native Tahitian, native Polynesians, family-wise of the core of Tahiti Nui not necessarily the employees, but 'cause we have those ties and those roots and with such a huge influx of visitors- every year and multiplying, it's super important that we (I feel) try to educate visitors about us, the people that came here, that have been here for 1000 years and that it's more than just a pretty place, it's a beautiful place to visit but there are people here, there's a culture here, there's a spirit of the island, that I feel like we've been caretaking and co-existing with for a long time and that's important for visitors to know and to understand and we have a unique opportunity to connect with visitors more than maybe some just regular residents that don't have that opportunity to interact with as many visitors as we do so we also, another kind of, obligation in a way, responsibility to share that.